We have a range of publications here which have been developed as a result of national projects we have run; or in conjunction with partners in social work and social care.
While we tend to publish online only, we sometime do have hard copies of these reports and can make these available to you if you contact our office.
Age of Criminal Responsibility (Scotland) Act 2019 (ACRA) Operational Guidance for Social Work and Police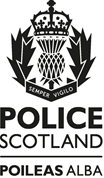 Early and Effective Intervention Age of Criminal Responsibility (Scotland) Act 2019
The Age of Criminal Responsibility (Scotland) Act 2019 (hereafter referred to as 'the Act') is effective from 17 December 2021. This brings important changes to the rights of all children under 12 years of age.
This change is already reflected in the updated Early and Effective Intervention – Framework of Core Elements which was published by the Scottish Government in June 2021. The Core Elements recognises the difference between offending and concerning or harmful behaviour.
A vital part of the changes this introduces for children under 12 is to protect them from the harmful effects of early criminalisation, while ensuring they receive the right support and reduce stigma.  Getting it Right for Every Child (GIRFEC) emphasises the need to take a child centred approach, understanding the wellbeing of a child in their current situation, taking into consideration the wider influences on a child and their developmental needs. It is essential that all agencies who work to support and meet the needs of children across Scotland ensure that their processes, practice and documentation reflect this important change. The language that all professionals use, in any form of communication, must reflect the wellbeing and rights based approach that all agencies support.
Many agencies and local partnerships will have already started work to ensure they are ready for the commencement of the Act on 17th December 2021. All organisations, agencies and partnerships are urged to ensure that they review all of their processes, practice and documentation to ensure we use language that promotes wellbeing and does not criminalise children. By doing so we will ensure that this important change in the rights of children in Scotland is fully reflected in the way their needs are described. This will have immediate benefits, building on the GIRFEC approach  and providing a strong foundation for future developments to deliver on our commitments to UNCRC.
The above guidance contains information to support Police Scotland and Local Authorities in the application of their operational duties, under the Age of Criminal Responsibility (Scotland) Act 2019 (the Act). This Guidance should be read in conjunction with the following, published by Scottish Ministers:
TAGGED WITH: Children and Families, Social Work Justice
Social Work leadership during COVID-19: March – November 2020
Introduction to the reports
Reports
The COVID-19 pandemic has pushed health and social care to the forefront of our collective awareness in the last year. It's been a time of fear, isolation and disconnection, and so naturally focus sharpens on the supports and services that keep our family members, friends, loved ones and community connected, safe and protected. Social work has occupied a space in between those important social care services and vital health interventions. Its naturally liminal nature has been flexed and expanded to work alongside people whose normal structures of support have fallen away, and social work leadership has needed to respond quickly, pragmatically and sensitively.
During COVID-19 the social worker's – and at a strategic level, Chief Social Work Officers' – focus on human rights, dignity and relationships has been more important than ever. Across a diverse range of issues, from quality assurance of care homes to children's access to digital technology, social work has tried to ensure that the voices, wishes and interests of individuals are taken into account, the diversity of the population's needs understood, and support available to those that needed it most.
But while social work's positive contribution to the pandemic response has been widely acknowledged, there remains a pervasive feeling that the role of the social worker is at best misunderstood, and at worst undervalued.
These commissioned separately, but are being published together as they provide related perspectives on the same picture: the realities of social work leadership through and beyond the COVID-19 pandemic.
"…I manage to do this job but I struggle to reach the important parts around connecting to the workforce, spending time with service users and contributing to the wider Social Work Scotland agenda'" – respondent to CSWO survey
The two reports surface consistent themes about the paucity of resources, the strengths and challenges of the Chief Social Work Officer role, and the profession's voice in health and social care. They also illustrate the breadth of issues social workers (and in particular CSWOs) are necessarily involved in; and the fact that, in many of those areas, major changes in policy, structures and practice are under discussion.
The themes mirror results seen in the Scottish responses to British Association of Social Workers (BASW)'s 2020 survey of members, highlighting the ethical and moral dilemmas encountered by social workers on a regular basis, and a widespread feeling that social work has been co-opted into the role of 'gatekeeper' for social care services, rather than empowered to be a force for change and social justice.
As we look to the future, with change likely in all the public policy domains within which social work is an essential (albeit often unseen) component, it's timely to consider what social work needs in order to realise its full potential. These reports provide insight into the leadership of social work's experience of the systems and structures within which they operate, and provides us with some pointers for what reform needs to attend to: a strong profession, from the leadership through to the frontline, working in partnership with individuals, families and communities across Scotland.
Ben Farrugia
Director, Social Work Scotland
24 March 2021
Reports
TAGGED WITH: Adult Social Care, Children and Families, COVID-19
Connections for wellbeing & contact framework
Please find below the Framework for decision-makers to ensure children in public care maintain strong connections with family during Covid-19 pandemic. (Two appendices are also attached, as separate documents, alongside a separate note.
Work on this framework was initiated at the request of the Chief Social Work Officers and Social Work Scotland Children and Families Committees in May, and updated in January 2021 to reflect developments. It has been developed in consultation with Children's Hearings Scotland, CELCIS, SASW, SWS Standing Committee and sub-group members, the Fostering Network and Scottish Government.
Please note that this is an Social Work Scotland  framework, not Scottish Government or CHS / SCRA official guidance. It is provided to support local decision making and the development / updating of local guidance. It does not seek to replace any existing guidance or policy you may have developed. It is also an evolving document, requiring adaptation as public health response to the pandemic develops.
If you have any questions about the framework, please don't hesitate to contact
James.cox@socialworkscotland.org
TAGGED WITH: Children and Families, COVID-19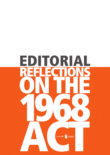 Reflections on the 1968 Act: Editorial
As the professional leadership body for social work, Social Work Scotland wanted to use the opportunity of the 50th anniversary of the 1968 Act to reflect upon what the Act has achieved, and what it still has to offer as we look forward. The result is a collaborative project between Social Work Scotland, Scottish Government and the profession reflecting one of the hallmarks of social work in Scotland – partnership. It involves seven specially commissioned papers that seek to look at the achievements of the Act, and to draw out the lessons for the future. In doing so, this publication is seeking to pause and reflect on where social work in Scotland has come from, and where it can build upon the successes to date as it faces both the opportunities and challenges of tomorrow. Social work has always operated in a context of change and challenge, and yet the need of wider society for social work is just as pertinent today as it was in the lead up to the 1968 Act.
TAGGED WITH: Adult Social Care, Children and Families, Social Work Justice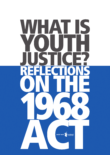 What is youth justice?
This paper draws upon archival records, literature, data, media reports and testimony from policymakers and practitioners in order to chart the development of youth justice since 1968. It describes policy and practice change since then that has been slow and incremental, rather than radical. And while the legacy of Kilbrandon has been a clear and strong set of principles acting as a beacon to guide both policy and practice, an unintended legacy is the often erroneous assumption that, because of Kilbrandon, Scotland is getting it right for children in conflict with the law. The paper documents the fact that, even with the best of intentions, policy and practice do not always adhere to such admirable principles when things get challenging. Inspired by Kilbrandon, the authors propose that the time is right for a big step change in how Scotland responds to children who are in conflict with the law, by genuinely and completely rooting the youth justice response in children's rights.
TAGGED WITH: Children and Families, Social Work Justice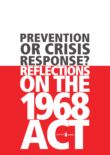 Prevention or Crisis Response?
The Social Work (Scotland) Act 1968 provided a framework for the newly formed social work profession to use cash assistance in its work with children and adults, for use in emergencies, for preventative and for promotional social work; cash assistance was seen as the resource of a comprehensive Social Work Department. Fifty years on, this small scale study explored the role of financial assistance today from statutory and third sector services through examining the original policy intention of s.12, whether use of cash assistance had changed over time and whether it currently played a role in addressing poverty.
TAGGED WITH: Adult Social Care, Children and Families, Resources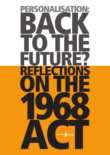 Personalisation: Back to the future?
Personalisation is now established in policy circles as a key element in the future of social work practice. By implication, the policy rubric suggests a return to aspects of relational practice, drawing on community strengths and affording the opportunity for social
workers to think imaginatively and use discretion. These are also hallmarks of the 1968 Social Work Scotland Act. This paper explores if personalisation in practice does indeed have resonance with the 1968 Act.
TAGGED WITH: Adult Social Care, Children and Families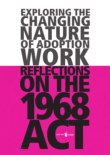 Exploring the changing nature of adoption work
This paper charts changes in the social work role in adoption in Scotland since 1968. Although the Act
was not intended to reform adoption practice, it has had two major impacts. The first concerns the process of adoption. Since the majority of adoptions in 1968 were by 'consent', it is unlikely that the engineers of the Children's Hearing system foresaw the role it would have in securing permanence for children. As adoption moved from 'relinquishment' to more complex and contested legal routes, the Children's Hearing began to occupy an integral role in decision making for children in need of care and protection. The second major impact of the Act is in terms of the wider values of social work. Since 1968, adoption has gradually become understood as a resource for children who are unable to remain within the birth family or kinship networks. The welfarist foundations laid by the 1968 Act were instrumental in this process.
TAGGED WITH: Children and Families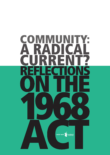 Community: A radical current?
The idea of a universal, community-based service was key to the vision of social work that informed the 1968 Social Work (Scotland) Act. In the intervening 50 years did such a vision came to represent a radical, critical current within social work theory and practice in Scotland or did it remain largely aspirational? This paper draws on survey, interview and focus group data collected from current and past practitioners to consider this question.
TAGGED WITH: Adult Social Care, Children and Families, Organisational Development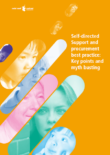 Self-directed Support and Procurement Best Practice: Key points and myth busting
TAGGED WITH: Adult Social Care, Children and Families, Resources
Archived Publications