We have a range of publications here which have been developed as a result of national projects we have run; or in conjunction with partners in social work and social care.
While we tend to publish online only, we sometime do have hard copies of these reports and can make these available to you if you contact our office.
A New Vision for Social Care in Prisons
A New Vision of Social Care in Prisons by S Levy, F Kumari Campbell, L Kelly and F Fernandes (University of Dundee)
This report, carried out by the University of Dundee, is a key step in the Scottish Government's review of social care in prisons. It has 17 areas of focus for recommendations, and key themes include human rights, equality and diversity issues, the role of social work in prisons and the impact of prison on people with disability and long term conditions. A New Vision for Social Care in Prison Report.
You can also read the Scottish Government's response to the report here.
TAGGED WITH: Resources, Social Work Justice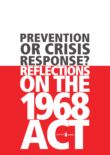 Prevention or Crisis Response?
The Social Work (Scotland) Act 1968 provided a framework for the newly formed social work profession to use cash assistance in its work with children and adults, for use in emergencies, for preventative and for promotional social work; cash assistance was seen as the resource of a comprehensive Social Work Department. Fifty years on, this small scale study explored the role of financial assistance today from statutory and third sector services through examining the original policy intention of s.12, whether use of cash assistance had changed over time and whether it currently played a role in addressing poverty.
TAGGED WITH: Adult Social Care, Children and Families, Resources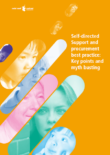 Self-directed Support and Procurement Best Practice: Key points and myth busting
TAGGED WITH: Adult Social Care, Children and Families, Resources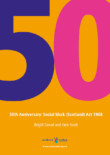 50th Anniversary: Social Work (Scotland) Act 1968
TAGGED WITH: Adult Social Care, Children and Families, Organisational Development, Resources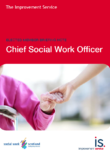 Elected Member Briefing Note: Chief Social Work Officer
TAGGED WITH: Resources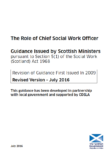 The Role of Chief Social Work Officer
TAGGED WITH: Resources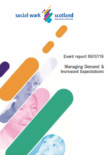 Managing Demand and Increased Expectations Event Report
TAGGED WITH: Resources
Archived Publications