We have a range of publications here which have been developed as a result of national projects we have run; or in conjunction with partners in social work and social care.
While we tend to publish online only, we sometime do have hard copies of these reports and can make these available to you if you contact our office.
Justice Social Work Routemap
The Scottish Government released the COVID-19 Routemap at the end of May 2020.  The Routemap sets out four phases between lockdown and the resumption of life without restrictions linked to the pandemic.   
The Routemap refers to the justice system in terms of the resumption of court business and "greater contact for social work and support services with at risk groups and families with physical distancing and hygiene measures" in Phase 1.  Social Work Scotland has identified a need to flesh out the implications of the Routemap for Justice Social Work (JSW) in Scotland.  HM Prison and Probation Service has published their Probation Roadmap to Recovery 2 which offers high level principles and guidance to their staff. 
This paper: 
define

s

 the e

lements of JSW

 

in Scotland 

impacted by the pandemic

 

indicate

s

 how 

capacity to deliver these 

services 

is reduced by physical distancing and other pandemic related health requirements 

 

shares practice

 that may help to increase capacity

 

e

xplores more generally the issues around trying 

to 

improve capacity in

 justice social work 

services

 both locally and nationally

 
recognises 

that different local authority areas will experience the Phases differently due to characteristics such as size, rurality

, etc

.

 

may be revised and re-published as we move through the Phases and gain knowledge and experience.

 
Download a copy of this document (Word)
TAGGED WITH: Social Work Justice
A New Vision for Social Care in Prisons
A New Vision of Social Care in Prisons by S Levy, F Kumari Campbell, L Kelly and F Fernandes (University of Dundee)
This report, carried out by the University of Dundee, is a key step in the Scottish Government's review of social care in prisons. It has 17 areas of focus for recommendations, and key themes include human rights, equality and diversity issues, the role of social work in prisons and the impact of prison on people with disability and long term conditions. A New Vision for Social Care in Prison Report.
You can also read the Scottish Government's response to the report here.
TAGGED WITH: Resources, Social Work Justice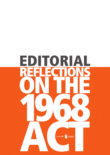 Reflections on the 1968 Act: Editorial
As the professional leadership body for social work, Social Work Scotland wanted to use the opportunity of the 50th anniversary of the 1968 Act to reflect upon what the Act has achieved, and what it still has to offer as we look forward. The result is a collaborative project between Social Work Scotland, Scottish Government and the profession reflecting one of the hallmarks of social work in Scotland – partnership. It involves seven specially commissioned papers that seek to look at the achievements of the Act, and to draw out the lessons for the future. In doing so, this publication is seeking to pause and reflect on where social work in Scotland has come from, and where it can build upon the successes to date as it faces both the opportunities and challenges of tomorrow. Social work has always operated in a context of change and challenge, and yet the need of wider society for social work is just as pertinent today as it was in the lead up to the 1968 Act.
TAGGED WITH: Adult Social Care, Children and Families, Social Work Justice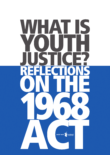 What is youth justice?
This paper draws upon archival records, literature, data, media reports and testimony from policymakers and practitioners in order to chart the development of youth justice since 1968. It describes policy and practice change since then that has been slow and incremental, rather than radical. And while the legacy of Kilbrandon has been a clear and strong set of principles acting as a beacon to guide both policy and practice, an unintended legacy is the often erroneous assumption that, because of Kilbrandon, Scotland is getting it right for children in conflict with the law. The paper documents the fact that, even with the best of intentions, policy and practice do not always adhere to such admirable principles when things get challenging. Inspired by Kilbrandon, the authors propose that the time is right for a big step change in how Scotland responds to children who are in conflict with the law, by genuinely and completely rooting the youth justice response in children's rights.
TAGGED WITH: Children and Families, Social Work Justice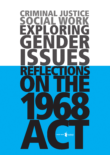 Criminal Justice Social Work: Exploring Gender Issues
This study explores gender in criminal justice social work (CJSW) in Scotland, historically and in the present day. It is well-known that the Social Work (Scotland) Act brought services together into a generic social work service for the first time. What is less recognised is that there was considerable opposition to this from within the (largely male) probation service; the rest of the UK's decision to keep probation out of social work shows just how strongly views were felt. Our study asks – 50 years on – how did the decision taken in Scotland come about, and how are gender issues played out today in criminal justice social work (CJSW)?
TAGGED WITH: Social Work Justice
Archived Publications